Charger uGREEN CD328 Nexode network cable, 3xUSB-C, USB-A, GaN, 100W (black)
Charger uGREEN CD328 Nexode network cable, 3xUSB-C, USB-A, GaN, 100W (black)
Indulge yourself with the convenience of the UGREEN CD328 Nexode 4-port Networking charger. The device features 3 USB-C interfaces and 1 USB-A interface, making it widely compatible. Charger with a maximum power of 100W supports several fast charging protocols and will efficiently charge your devices. The CD328 guarantees multi-level protection and features a compact size and energy efficiency.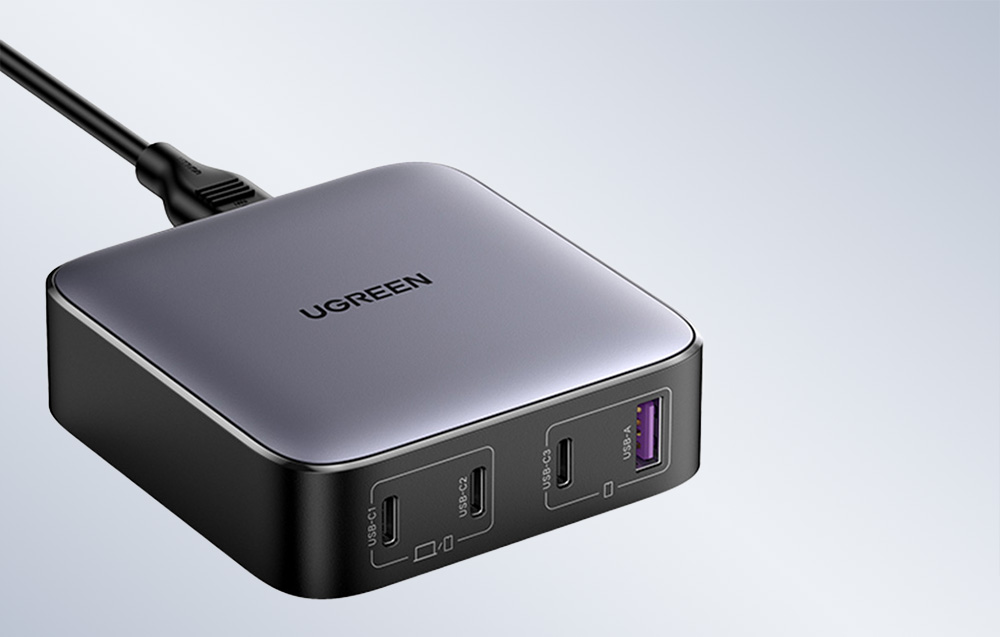 Charge 4 devices simultaneously
Taking your smartphone, wireless headphones and laptop to work or college? Don't take up space in your bag carrying several chargers - now you canaRCzy the CD328 model, which can charge up to 4 devices at the same time! Charger with a maximum power of 100 watts will efficiently renew the energy of your smartphone, tablet, laptop, wireless headphones or gaming console. USB-C1 and USB-C2 ports will do a great job of powering the batteries of laptops, tablets and phone. USB-C3 and USB-A ports will be suitable for charging tablets and smartphones.
Fast charging technology
Using the UGREEN mains charger, you will forget what waiting is! The CD328 supports fast charging protocols such as Power Delivery, Quick Charge, Programmable Power Supply, Super Charge Protocol and Adaptive Fast Charging. As a result, it takes 30 minutes toaRCzy for a MacBook Pro's battery level to reach 50% charge. The time required to fully charge the MacBook Pro 16 is 90 minutes. The iPhone 14 Pro Max, on the other hand, will be charged to 60% in just 30 minutes from the start of charging.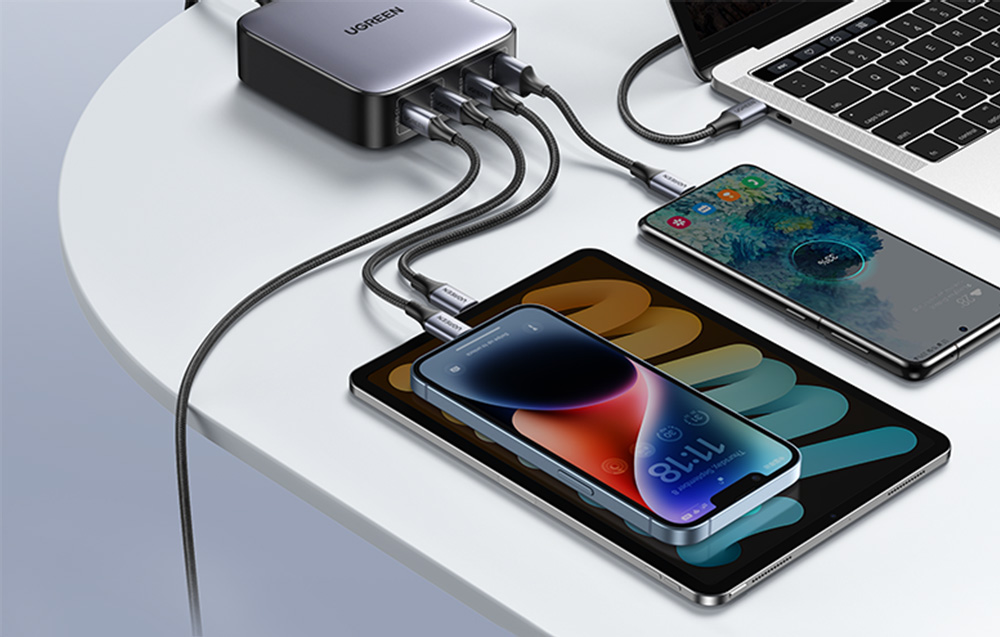 Impressive power
The CD328 will charge the MacBook Pro 16" with 100 watts of power. Power of 65 watts is possible for 13"/14" Macbook Pro, 45 watts for DELL laptops and 30 watts for iPhone'a series. Galaxy series devices, on the other hand, are charged at 25 watts. Thanks to the technologies used, the power automatically adjusts depending on the port used and the type of device being charged. Charger it will also efficiently power Nintendo Switch and Steam Deck consoles, allowing you to use your devices at the same time.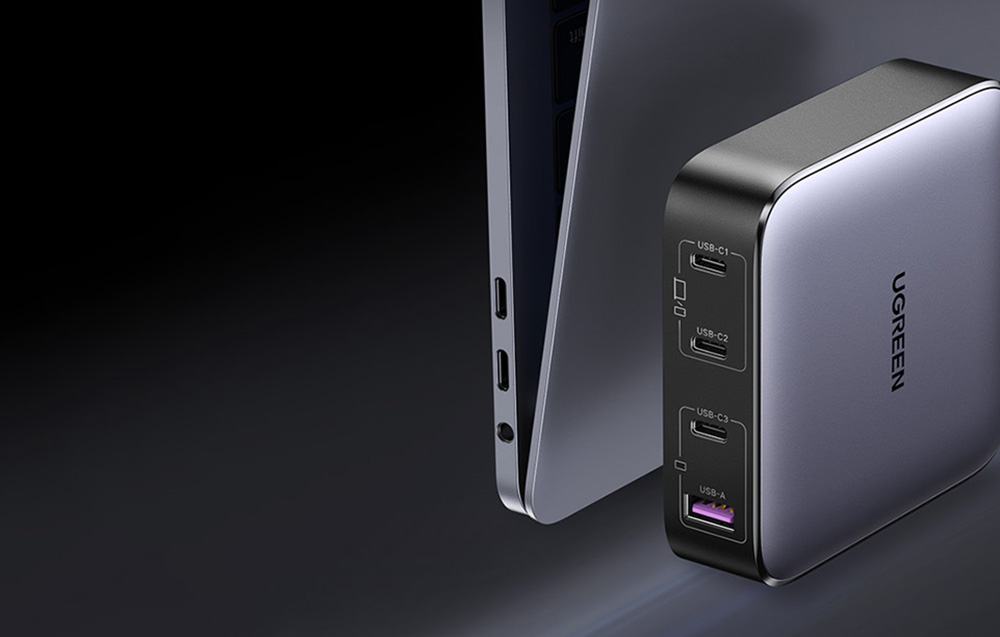 Upgraded technology
Improved GaN II and SiC technologies guarantee efficient heat dissipation, energy efficiency and have enabled the compact size of chargers CD328. The solutions used, combined with a well-thought-out design, provide multi-level protection, including overvoltage, zwaRCation, overcurrent and overheating. The temperature is measured as much as 800 times per second, so the use of chargers is completely safe. The product is made of skin-friendly materials, and its compact size ensures convenient use.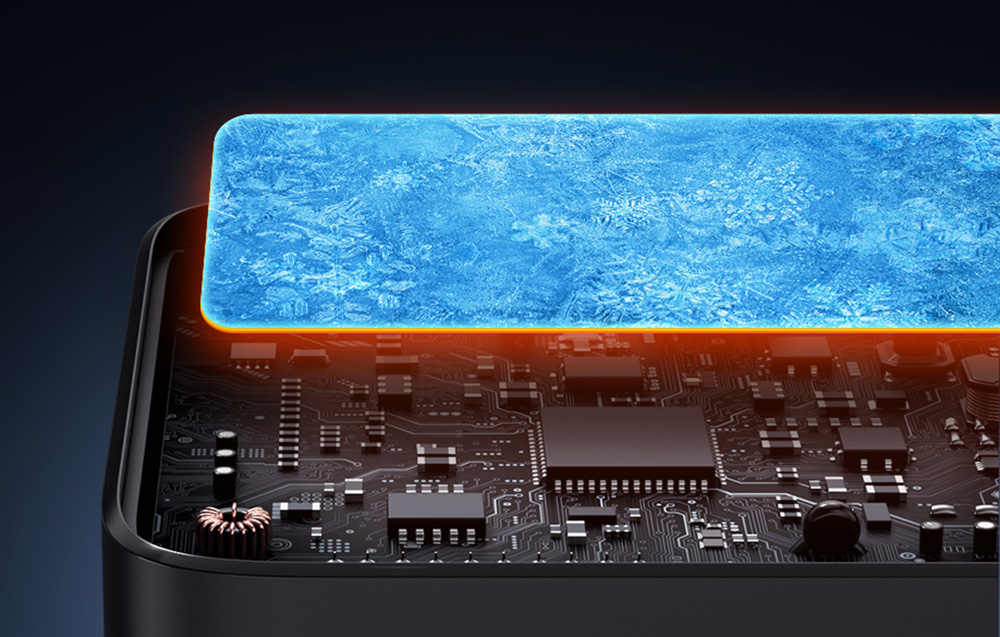 Widely compatible
Thanks to the fact that the UGREEN charger is equipped with 3 USB-C ports and 1 USB-A port, the product is highly versatile. You can use the CD328 to charge laptops from Apple, Huawei, Xiaomi and Lenovo, smartphones from Apple, Huawei, Xiaomi and Samsung, tablets from Apple, and gaming consoles from Nintendo Switch and Steam Deck, among others. Enjoy the many possibilities that the CD328 offers and instantly charge several devices at once!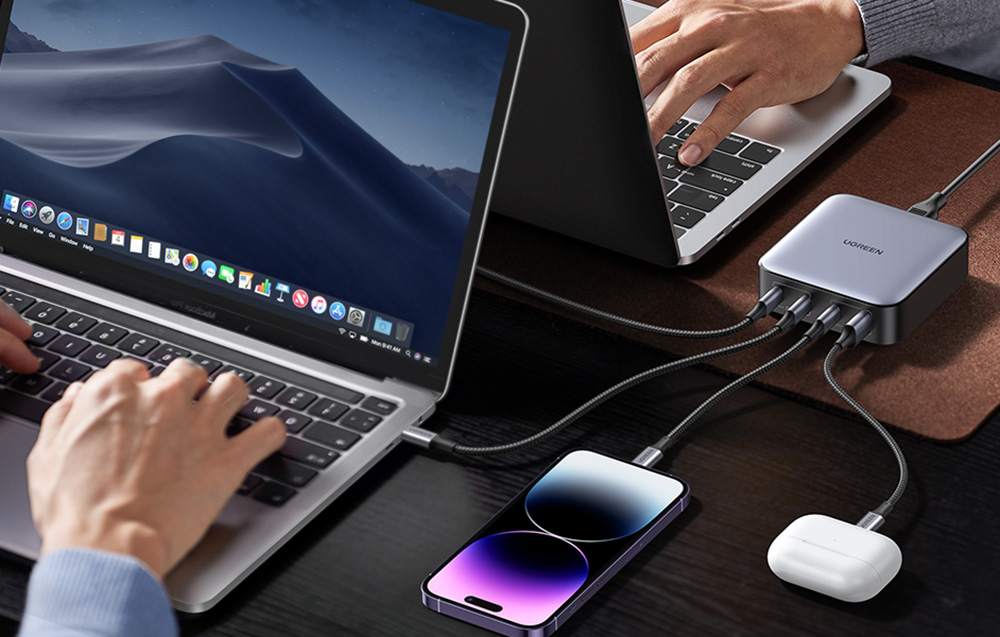 Included:
Charger network
Cable 2 m
Manufacturer
UGREEN
Name
4 Port 100W Charger / Nexode 100W Desktop Charger
Model
CD328
Input power
100-240 V ~ 50/60 Hz 1.8A (max)
USB-C1/C2 output power

5V/3A; 9V/3A; 12V/3A; 15V/3A; 20V/5A; 100W (max)

PPS: 3.3-21V/5A

USB-C3 output power

5V/3A; 9V/2.5A; 12V/1.87A; 22.5W (max)

PPS: 3.3-5V/3A 3.3-11V/2A

USB-A output power
5V/3A; 9V/2A; 12V/1.5A; 10V/2.25A; 22.5W (max)
Fast charging protocols

USB-C: PD3.0, PPS, QC4+(QC4.0/QC3.0), SCP (10V/2.25A), FCP, AFC, Apple 5V2.4A, BC1.2

USB-A: SCP (10V/2.25A), QC3.0, FCP, AFC, Apple 5V2.4A, BC1.2

Total power
100 W
Dimensions
87 x 84 x 30 mm
Color
Black
Cable length
2 m