Nexode charger UGREEN CD327, 2x USB-C, 2x USB-A, GaN, 65W (grey)
UGREEN 65W mains charger
The UGREEN mains charger provides 65W of charging power. It supports multiple fast charging protocols and allows you to connect up to 4 devices at the same time. A number of safety features ensure a high level of security. In addition, the charger is distinguished by its compact size, so you can take it with you almost anywhere.
Even faster charging
The UGREEN charger will allow you to charge your devices in no time! The product supports fast charging in Power Delivery, Quick Charge, FCP, AFC, SCP and BC 1.2 standards, and it offers charging with power up to 65 watts. So you can power up your iPhone 14's battery to 50% in as little as 27 minutes or your MacBook Air in 45 minutes!
4 output ports
The CD327 is equipped with as many as 4 ports - 2x USB-C and 2x USB-A, so you can seamlessly charge multiple devices at the same time. The charger is also distinguished by its wide compatibility. With its help you will easily renew energy in smartphones (Apple, Huawei, Samsung, Xiaomi), Apple tablets or laptops.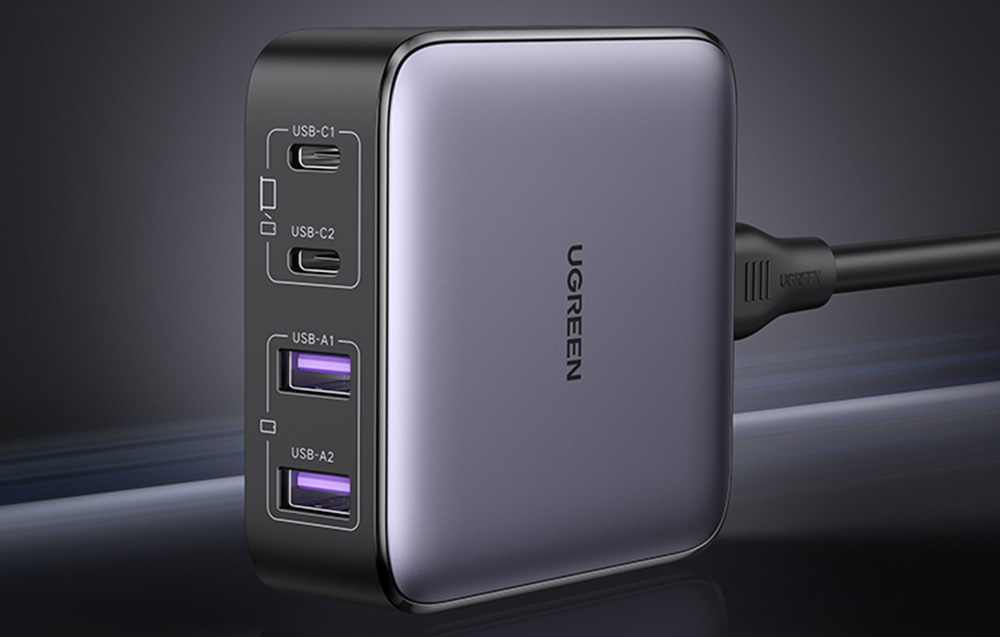 Innovative solution
The device is based on advanced GaN II technology, which has a positive effect on charging efficiency. Thanks to this solution, the device does not overheat, and also consumes less energy. The charger, thanks to multi-level protection, provides the highest level of safety. It guarantees protection against overvoltage, overheating, overloading or short circuits, among other things.
Included
mains charger
power cord 2 m
Manufacturer
UGREEN
Model
CD327
Dimensions
71 x 29 x 74.5 mm
Input
100~240V, 50/60Hz, 1.8A Max.
Output
USB-C1/2: 5V / 3A, 9V / 3A, 12V / 3A, 15V / 3A, 20V / 3.25A, PPS: 3.3-21V / 3A, 65W Max
USB A1/2: 5V / 3A, 9V / 2A, 12V / 1.5A, 10V / 2.25A, 22.5W Max
Fast charging protocols
USB-C: PD 3.0, PPS, QC 4.0, SCP, FCP, AFC, BC 1.2
USB-A: SCP, QC 3.0, FCP, AFC, BC 1.2
Maximum power
65 W
Cable length
2 m