Power Strip Cube EU UGREEN CD268, 65W, 1.8m (black)
EU UGREEN CD268 cube power strip, 65W, 1.8m (black)
Conveniently power and charge several devices simultaneously. The UGREEN power strip is equipped with practical ports and outlets such as 2x USB-A, 2x USB-C and 3x AC, making it widely compatible. It supports PD3.0 fast charging technology with up to 65W of power. Its operation is facilitated by a built-in button, and the 1.8-meter cable provides full freedom of use.
Many possibilities
The UGREEN power strip offers a number of useful ports and outlets, such as 2x USB-A, 2x USB-C and 3x AC. So you can be sure that it will be compatible with most of your devices. The length of the power cord is as long as 1.8 meters, so you can freely use your devices while they are plugged into the strip.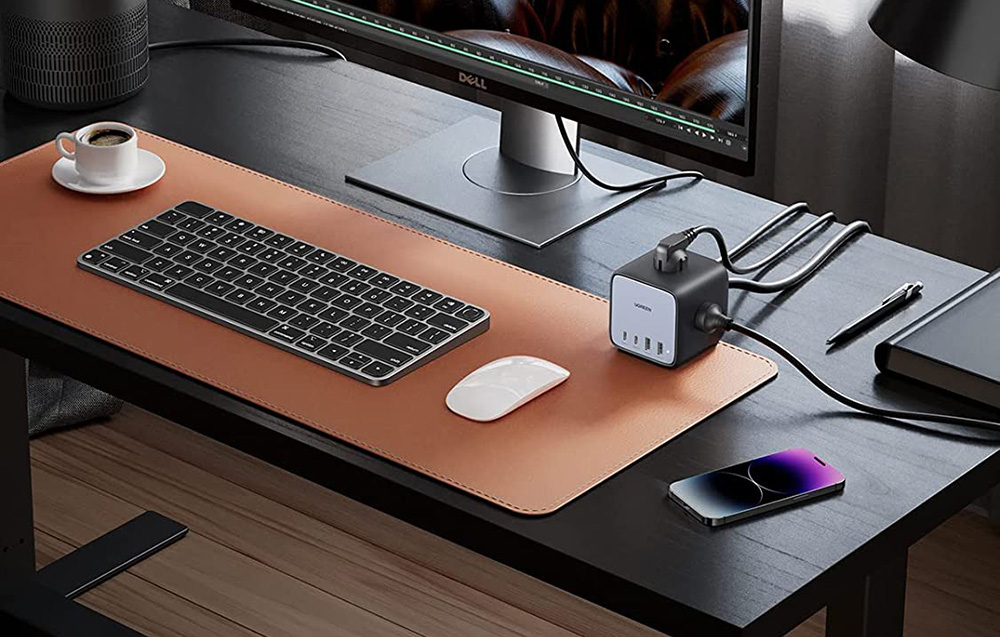 Total safety of use
Safety is a priority, which is why the UGREEN power strip provides a number of protections, including against high voltage, overheating or short circuit. The housing is made of high-quality, flame-resistant materials, which further increases the level of protection.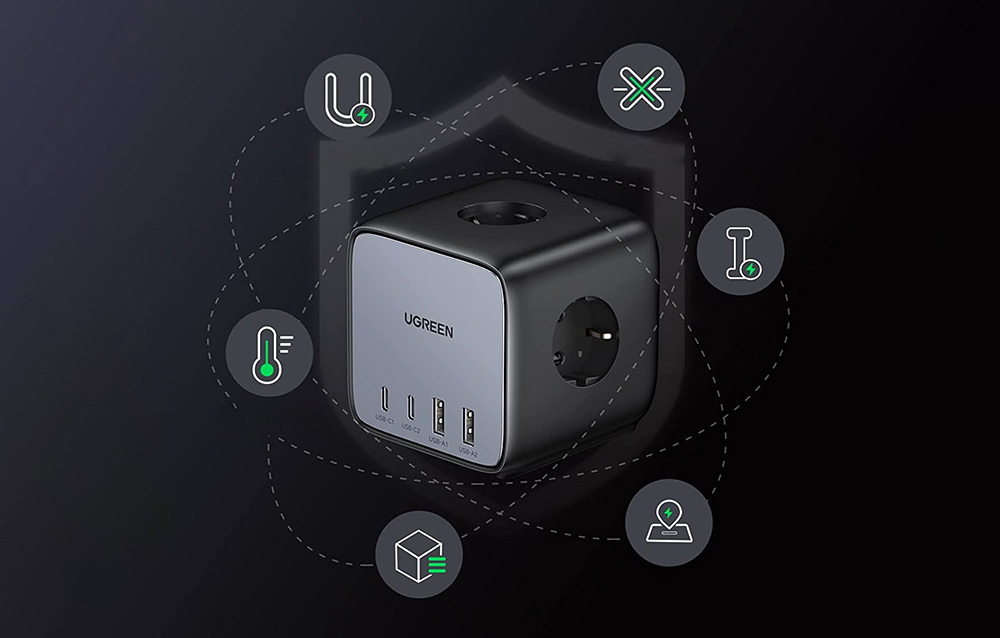 Fast charging
Experience how quickly you can renew the energy of your equipment! The UGREEN power strip supports 65W PD3.0 fast charging technology, so 2 hours is enough to fully charge your MacBook Pro 13" battery.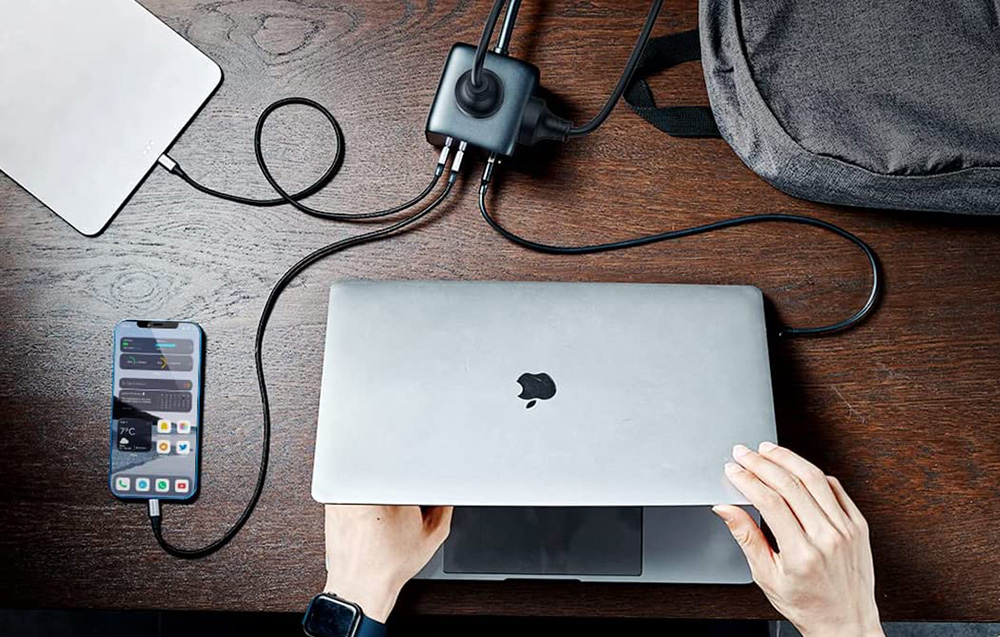 Refined design
The design of the UGREEN power strip uses advanced GaN II technology, which managed to reduce the size of the device, increase its efficiency and improve heat dissipation. As a result, the product is highly functional and will allow you to use space wisely, as its dimensions are only 7.6 x 7.6 x 7.6 cm. Convenient operation is provided by a built-in switch.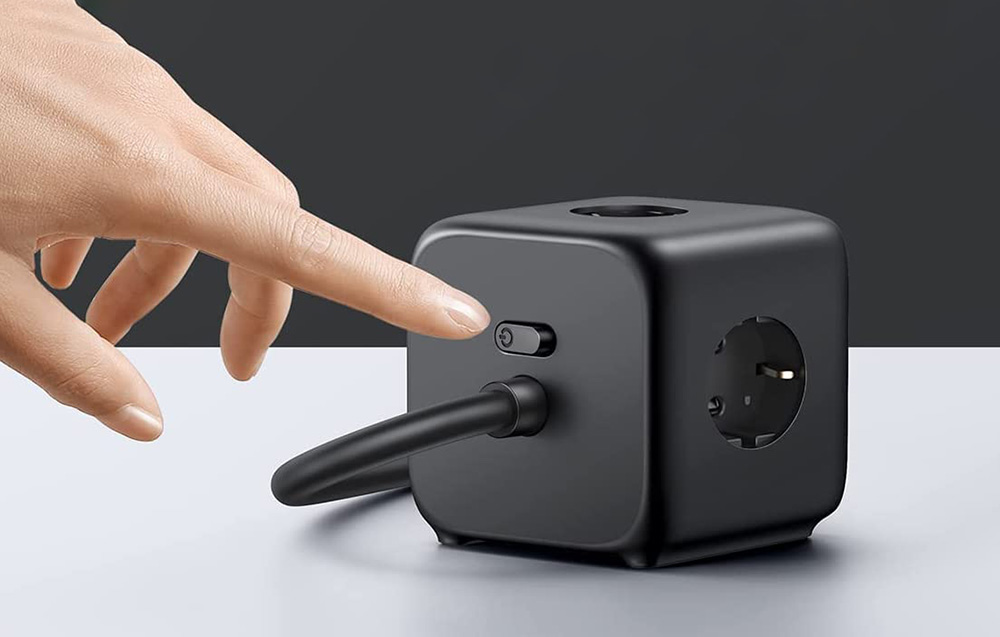 | | |
| --- | --- |
| Manufacturer | UGREEN |
| Model | CD268 |
| Color | white |
| Material | PC |
| Size | 7.6 x 7.6 x 7.6 mm |
| Weight | 473 g |
| Cable length | 1.8 m |
| AC input | 100-250V/10A, 50/60Hz |
| AC output | 100-250V/10A, 50/60Hz |
| Maximum output power | 2500W |
| USB input | 100-240V~50/60Hz 1.8A max. |
| USB-C1/USB-C2 output | 5V/3A, 9V/3A, 12V/3A, 15V/3A, 20V/3.25A, 20V/3.25A, 65W Max, PPS:3.3-21V/3A (PD3.0, PPS, QC3.0, QC2.0, FCP, SCP, AFC) |
| USB-A1/USB-A2 output | 4.5V/5A, 5V/4.5A, 5V/3A, 9V/2A, 12V/1.5A, 22.5W max (QC3.0/2.0, AFC, FCP, SCP, PE2.0) |
| USB-C1 + USB-C2 output | PD45W/PD20W + PD20W/PD45W |
| USB-C1 + USB-A1 output | PD45W + 18W (QC/FCP) |
| USB-C1 + USB-A2 output | PD45W + 18W (QC/FCP) |
| USB-C2 + USB-A1 output | PD45W + 18W (QC/FCP) |
| USB-C2 + USB-A2 output | PD45W + 18W (QC/FCP) |
| USB-A1 + USB-A2 output | 5V/3A |
| USB-C1 + USB-C2 + USB-A1 output | PD20W + PD20W + 18W (QC/FCP) |
| USB-C1 + USB-C2 + USB-A2 output | PD20W + PD20W + 18W (QC/FCP) |
| USB-C1 + USB-A1 + USB-A2 output | PD45W + 5V/3A |
| USB-C2 + USB-A1 + USB-A2 output | PD45W + 5V/3A |
| USB-C1 + USB-C2 + USB-A1 + USB-A2 | PD30W + PD20W + 5V/3A |
| Color | Black |