Power Strip EU UGREEN CD270, 2 AC outlets, 100W, 1.8m
EU UGREEN CD270 power strip, 3x USB-C, 1x USB-A, 2x AC, 100W, 1.8m
The UGREEN power strip is equipped with 3 USB-C ports, a USB-A port and 2 AC outlets. It can charge and power as many as 6 devices simultaneously and supports PD 100W fast charging technology. The improved design of the product is made possible by GaN II technology. The cable length is 1.8 meters. The use of the strip is fully safe, and its management is facilitated by a built-in button.
It will quickly renew the energy of your devices
The UGREEN power strip supports multiple fast charging protocols, such as PD100W. It will instantly renew the energy of your Huawei smartphone with 22.5W, Samsung with 45W or Xiaomi with 27W. It can charge up to 6 devices at the same time. 2 hours is enough for a MacBook Pro's battery charge level to reach 100%. Since the strip has 3 USB-C ports, 1 USB-A port and 2 AC outlets, you can be sure that it will be compatible with most of your devices.
Modern solutions
The use of improved GaN and SiC technologies has ensured energy conversion of 95%, which translates into higher efficiency of the device. The solution also reduced the size of the product and improved heat distribution.
Reliable in any situation
Make sure that an unexpected power shortage won't force you to change your plans and abandon the use of the equipment you need, and opt for the UGREEN power strip. The product is perfect for home, office and travel. Conveniently connect any devices to it, such as projectors, laptops and phones.
A range of security features
You don't have to worry about the safety of your devices. The UGREEN power strip provides protection against overvoltage, short circuit, overheating or shock, among other things. What's more, the product's material is fireproof.
For your convenience
To make the use of the UGREEN power strip as convenient as possible, a button has been built into the power strip, which will allow you to freely manage its operation. No longer do you have to plug and unplug your devices every time you want to energize or charge them. In addition, the silicone elements of the stand make the strip stable in place.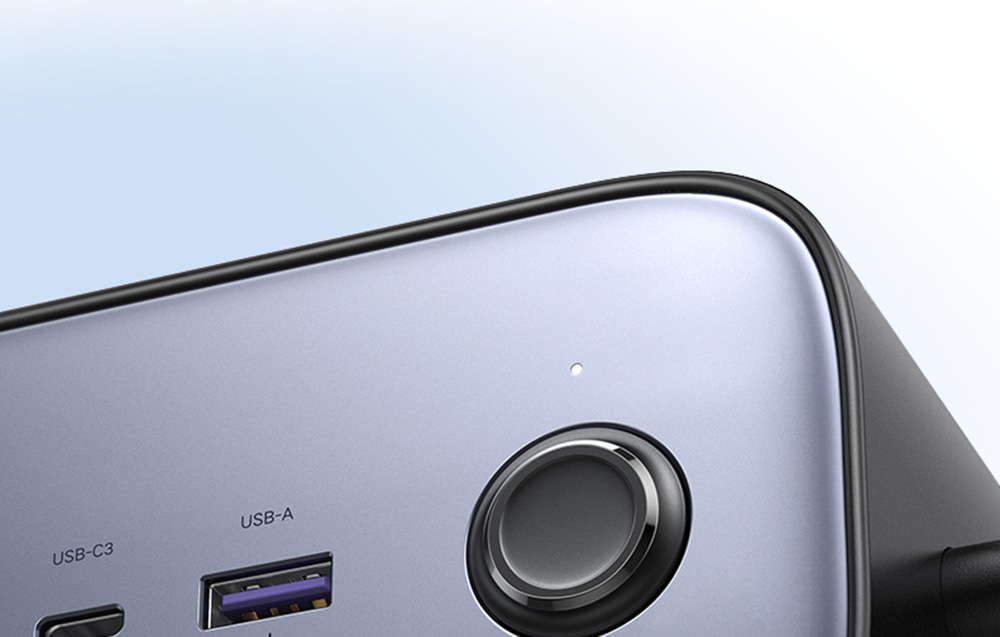 Manufacturer
UGREEN
Model
CD270
USB-C output
USB-C1/C2: 5V/3A 9V/3A 12V/3A 15V/3A 20V/5A 100W (max), PPS 3.3-21V/3A;
USB-C3: 5V/3A 9V/2.5A 12V/1.88A 22.5W, PPS 3.3~5.9V/3A, 3.3~11V/2A
USB-A output
4.5V/5A 5V/4.5A 5V/3A 9V/2A 12V/1.5A 22.5W (max).
AC output
125V/15A 1875W Max, 100-240V~50/60Hz
Supported protocols
USB-C:PD3.0/PPS/QC4+(QC4.0/QC3.0)/FCP/AFC/5V2.4A/BC1.2;
USB-A: SCP/QC3.0/FCP/AFC/5V2.4A/BC1.2
Compatibility
Laptops: MacBook Pro, MacBook Air, Dell XPS/Inspiron, HP Elite, Google Pixelbook, Microsoft Surface Book 2, ThinkPad
Tablets: iPad Pro 12.9''/ iPad Pro 10.5''/ iPad Pro 11''/ iPad Mini Series/ iPad Air Series
Smartphones: iPhone 8-14 Series, Samsung Galaxy S8-S22 / Note8-22 Series, Google Pixel / Pixel 3XL / 3 / 2XL / 2, Sony Xperia, LG G7 / V30+
Other devices: TV, desktop computer, lamp, printer, router