Wireless Headphones UGREEN HiTune X5 (deep blue)
UGREEN HiTune X5 Wireless Headphones (Blue)
Discover a new and better sound quality. The UGREEN HiTune X5 wireless headphones are equipped with 10-millimeter drivers and support Bluetooth 5.2. They also have 4 built-in cVc 8.0 noise-canceling microphones, so you can talk freely on the phone. They also stand out for their long operating time and IPX5 water resistance. At the same time, the headphones are extremely comfortable, with touch panels for easy operation.
Reliable wireless connection
Enjoy a stable, reliable wireless connection. HiTune X5 use Bluetooth 5.2 technology, which provides fast transmission, better sound quality and lower power consumption. It's good to know that you only need to pair them once - later they will connect automatically when you open the case. What's more, thanks to TrueWireless Mirroring, you can freely use just one headphone or both at the same time (Mono / Stereo).
Delightful sound
Experience how good the songs you love can sound. Featuring high-quality 10mm composite drivers, the headphones can deliver an unforgettable musical experience. Powerful, deep bass, crisp treble and impressive richness of detail will all make you discover your favorite songs in a new and better quality!
Made for conversations
The HiTune X5 headphones will also let you talk comfortably on the phone. They are equipped with 4 microphones, and also support cVc 8.0 and ENC noise cancellation technology (up to 35dB). This allows you to make calls even in extremely noisy places - for example, in a shopping mall or on a bus - without any problems. With UGREEN you are sure that your callers will hear you perfectly!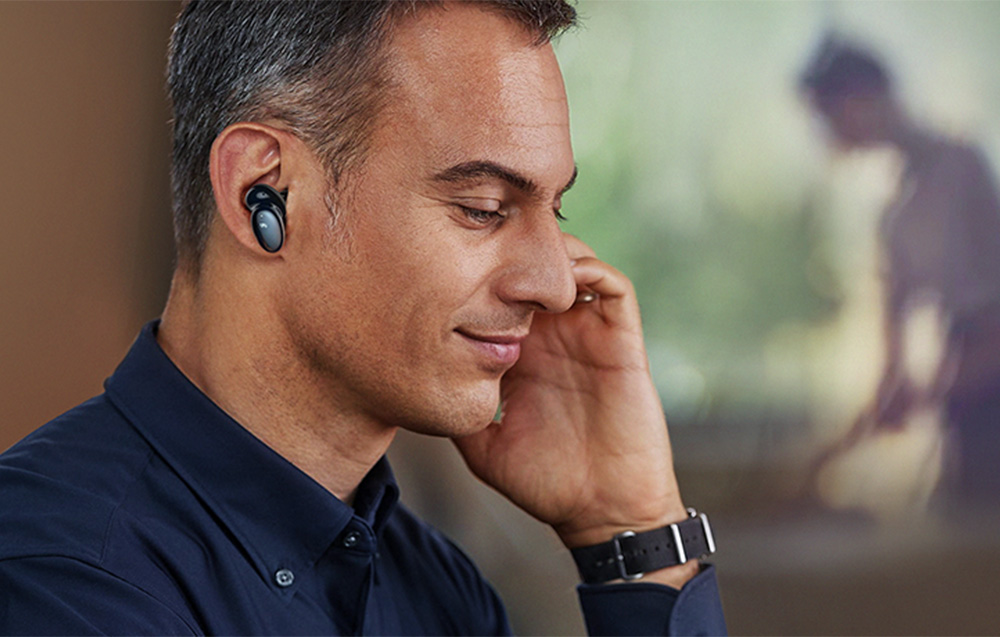 2 playback modes to choose from
HiTune X5 allow you to choose from 2 playback modes, which means they'll work perfectly in different situations! Game mode was created with gamers in mind. It provides low latency of about 70ms, which translates into perfect synchronization of video and audio. Now you can freely play dynamic games! Music mode will highlight the highlights of your favorite songs.
Tailored to you
You no longer have to worry about discomfort, even if you often listen to music for long hours. The HiTune X5 are distinguished by their lightweight, ergonomic design, so they fit perfectly in your ears and are very comfortable. You'll also find 4 pairs of interchangeable rubber bands in different sizes (XS, S, M, L). So you can customize the headphones to your needs even better!
Many hours of music listening
Forget about ordinary wireless headphones that refuse to cooperate very quickly. HiTune X5 can play music for up to 7 hours on a single charge! In addition, the included case will allow you to extend this time to about 28 hours. Now you can listen to your favorite songs for as long as you want - at home, at work or while traveling on the train.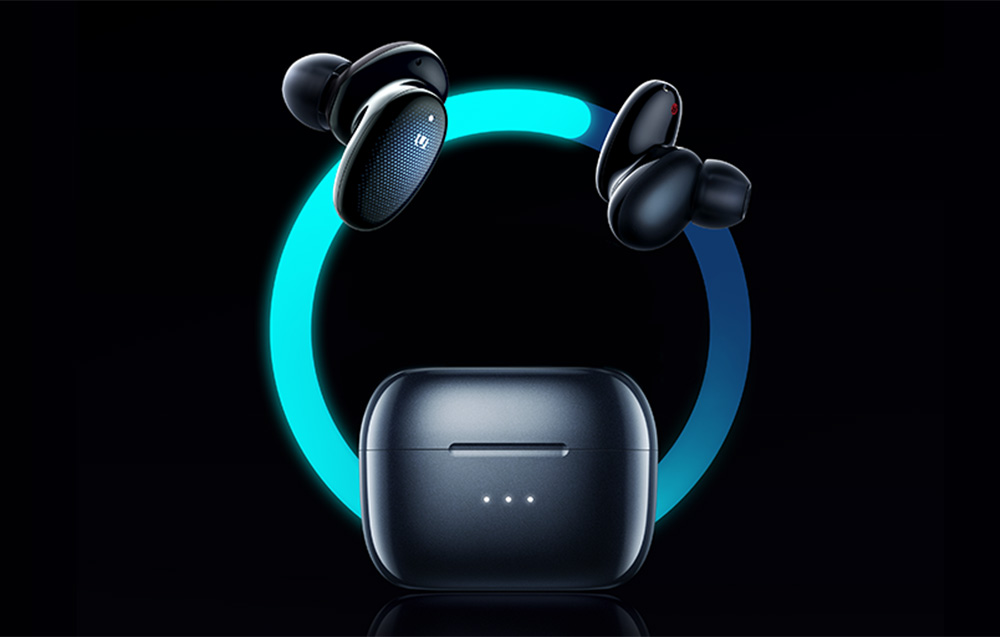 IPX5 water resistance
Take your headphones for a workout or a walk without worry. The HiTune X5 feature IPX5 water resistance, which means that rain, sweat or accidental splashes pose little threat to them. They are not even intimidated by extremely intense exercise or an unexpected downpour! You no longer have to give up listening to your favorite songs when you're about to do a little workout or see that it's about to rain.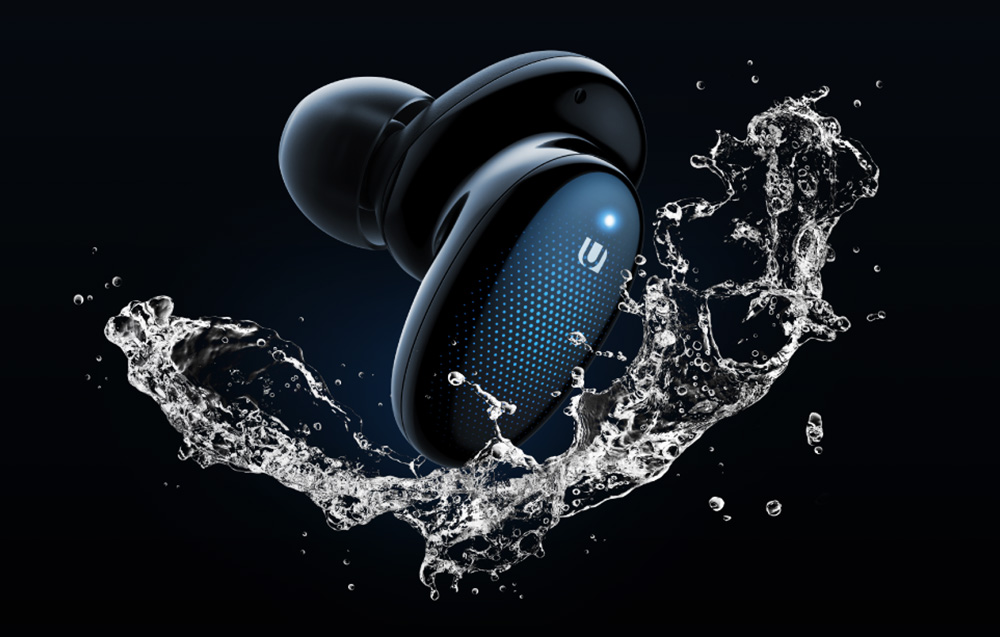 Touch operation
Want to switch a song, turn down the music or reject a call? You no longer have to take your smartphone out of your purse or pocket every time! The headphones have been equipped with convenient-to-use touch panels that will give you easy access to some of the most important functions. Using them, you can, for example, adjust the volume, change the song being played, select a mode, answer the phone or activate the voice assistant.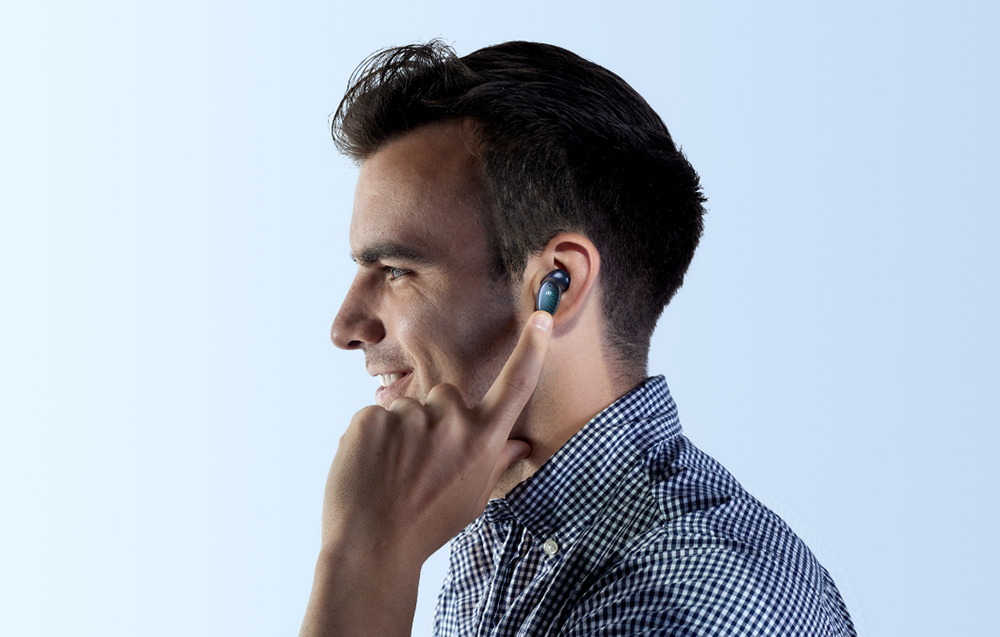 In the box
Headphones
Charging case
Interchangeable rubber bands (sizes XS, S, M and L)
Charging cable (USB-A to USB-C, 50cm)
User manual
| | |
| --- | --- |
| Brand | UGREEN |
| Name | HiTune X5 True Wireless Stereo Earbuds |
| Model | WS105 |
| Bluetooth | 5.2 |
| Range | Up to 10m |
| Bluetooth profiles | A2DP, AVRCP, HFP, HSP |
| Audio codecs | aptX, SBC, AAC |
| Driver | 10mm |
| Chip | Qualcomm QCC3040 |
| Playback time | Up to 7h / up to 28h (with case) |
| Handset battery capacity | 40mAh |
| Battery capacity of the case | 400mAh |
| Input of the case | 5V - 320mA |
| Case output | 5V - 100mA |
| Charging time for headphones | Approx. 1.5h |
| Charging time of the case | Approx. 2h |
| Charging port | USB-C |
| Impedance | 32Ω ±15% |
| Sensitivity | 100dB ±3dB |
| Microphone sensitivity | -38dB ±3dB |
| Frequency response | 20Hz - 20kHz |
| Water resistance | IPX5 |
| Weight of one earphone | 5.1g |