Wireless Keyboard + Ergonomic Mouse Set UGREEN MK006 (Black) 15720
Wireless Keyboard + Ergonomic Mouse Set UGREEN MK006 (Black)
Want to make your work easier? The UGREEN set is designed for more comfortable use. It includes a wireless keyboard, which shows up to 10,000,000 clicks of life, and an ergonomic mouse, which allows you to adjust the DPI up to 4,000. The hardware connects to other devices via a 2.4 GHz link, making their operating range up to 10 meters! See for yourself how pleasant your work can be!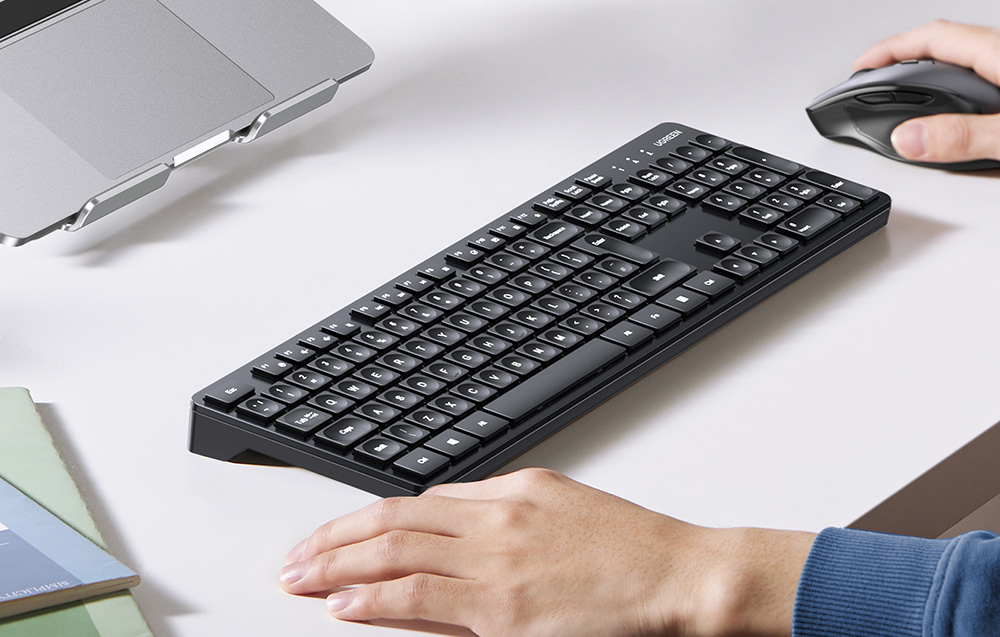 Comfortable to use keyboard
Modern keyboards that offer exceptional working comfort are the key to effective use of the computer. One such model is the UGREEN keyboard, which features an impressive key life of up to 10,000,000 clicks. What's more, it allows you to use the device freely within a range of up to 10 meters thanks to its 2.4 GHz connectivity technology. Whether you're working at your desk or relaxing on the couch, this keyboard will give you a stable and efficient connection.
A mouse tailored to your needs
In a world of technology where individual user preferences play a key role, the UGREN mouse offering customizable DPI meets the expectations of even the mostmagaficionados. A range of DPI settings remains at your choice: 800, 1,200, 1,600 (set by default), 2,000 and 4,000. Importantly, once you make a change, the DPI settings are automatically saved, eliminating the need to reconfigure them when you turn them back on. In addition, with an operating range of up to 10 meters, you can enjoy full freedom of movement.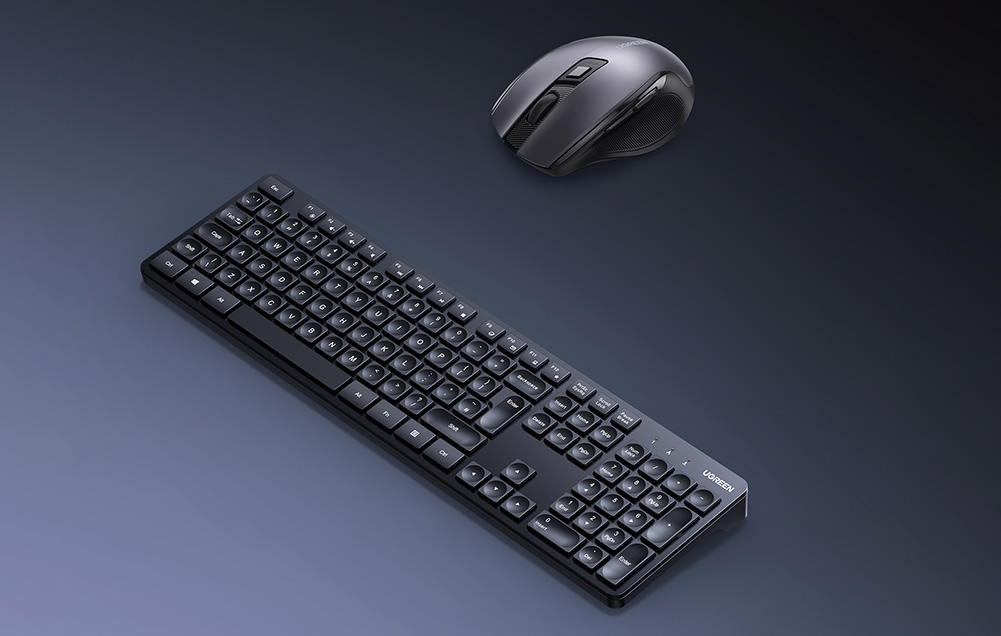 Comfort of use
Pairing the two devices is extremely easy, as it is done automatically. However, when you can't pair your devices, the whole process is completed in just three steps. For superior performance, the buttons do not respond when the battery level is too low. For the keyboard, the low-battery indicator flashes every 2 seconds, while for the mouse it takes about 5 seconds to flash. Both devices are powered by a single AA battery (not included), making them extremely practical for everyday use.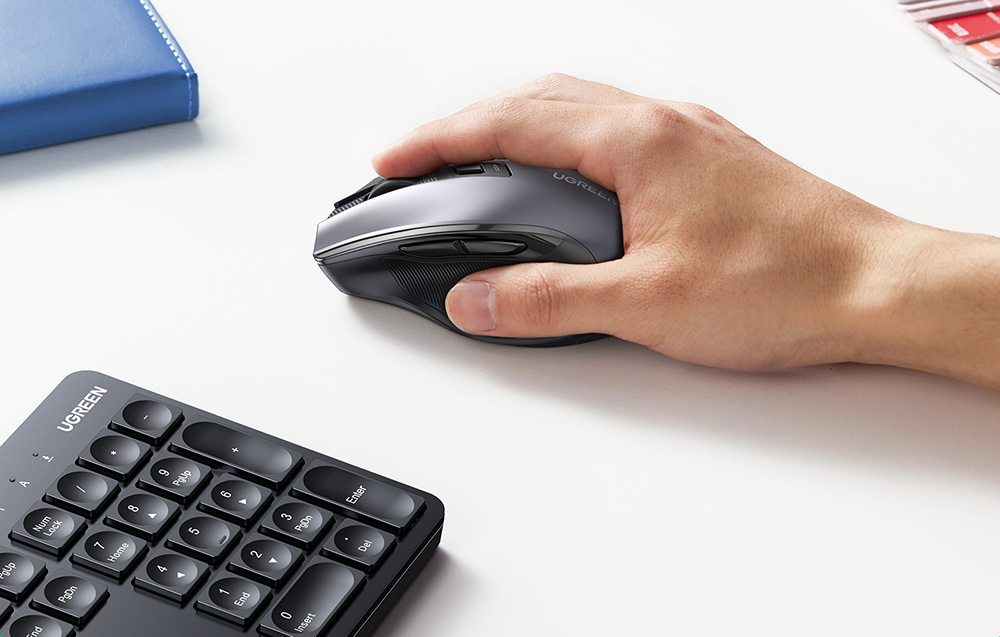 Wide compatibility
Thanks to their universal design, the UGREEN mouse and keyboard guarantee wide compatibility with different operating systems. Whether you use Windows versions 7, 8.1, 10 or the latest 11, Mac OS version 10.5 and up, Linux or Chrome OS, you can be assured of smooth interaction and excellent responsiveness. This gives you the flexibility and confidence that your hardware will work seamlessly in a variety of environments.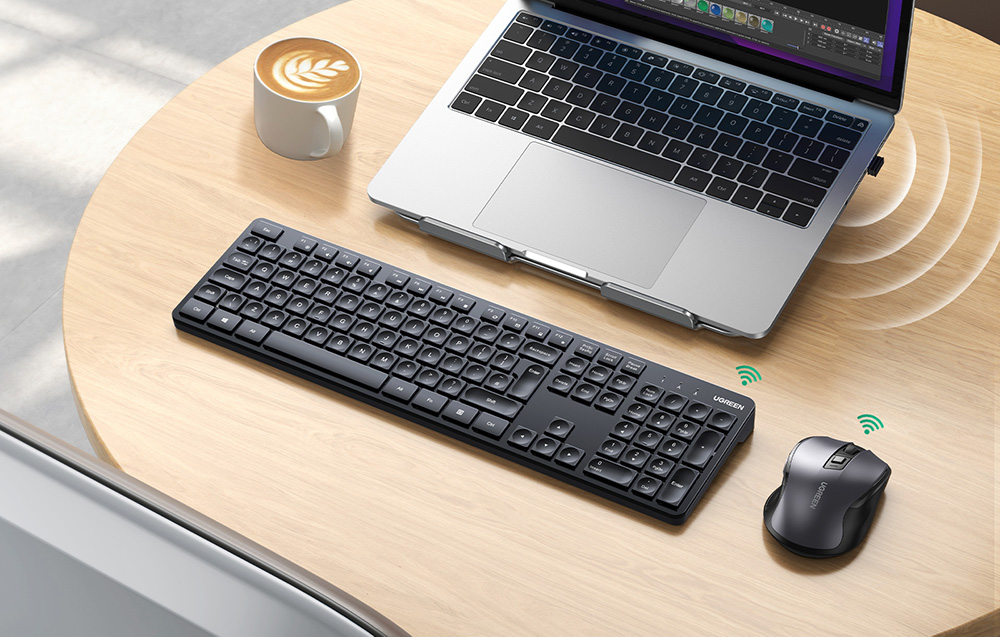 Included
ergonomic mouse
wireless keyboard
| | |
| --- | --- |
| Manufacturer | UGREEN |
| Model | 15720 |
| Wireless keyboard | |
| Connectivity | 2.4 GHz |
| Frequency range | 2400 MHz - 2483.5 MHz |
| RF output power | max. 4 dBm |
| Operating distance | max. 10 m |
| Lifetime | 10 000 000 |
| Battery | 1 x AA |
| Compatible systems | Windows 7 / 8.1 / 10 / 11, Mac OS 10.5 or higher, Linux, Chrome OS |
| Mouse | |
| Connectivity | 2.4 GHz |
| Frequency range | 2400 MHz - 2483.5 MHz |
| RF output power | max. 4 dBm |
| Operating distance | max. 10 m |
| DPI | 800 / 1200 / 1600 / 2000 / 4000 |
| Battery | 1 x AA |
| Compatible systems | Windows 7 / 8.1 / 10 / 11, Mac OS 10.5 or higher, Linux, Chrome OS |