Adapter Hub UGREEN, USB-C to 2x USB 3.0, HDMI, RJ45, SD/TF
UGREEN Hub Adapter, USB-C to 2x USB 3.0, HDMI, RJ45, SD/TF
Expand your capabilities with the UGREEN adapter. The device features several practical ports, such as 2 USB 3.0 ports, HDMI, RJ45 and SD/TF card slots. The hub allows you to display video on a large screen in 4K30Hz quality and provides data transmission speeds of up to 5 Gbps. It also supports fast PD charging with up to 100 watts of power. It stands out for its wide compatibility, and thanks to its lightweight and compact design, you can easily take it with you to college or work.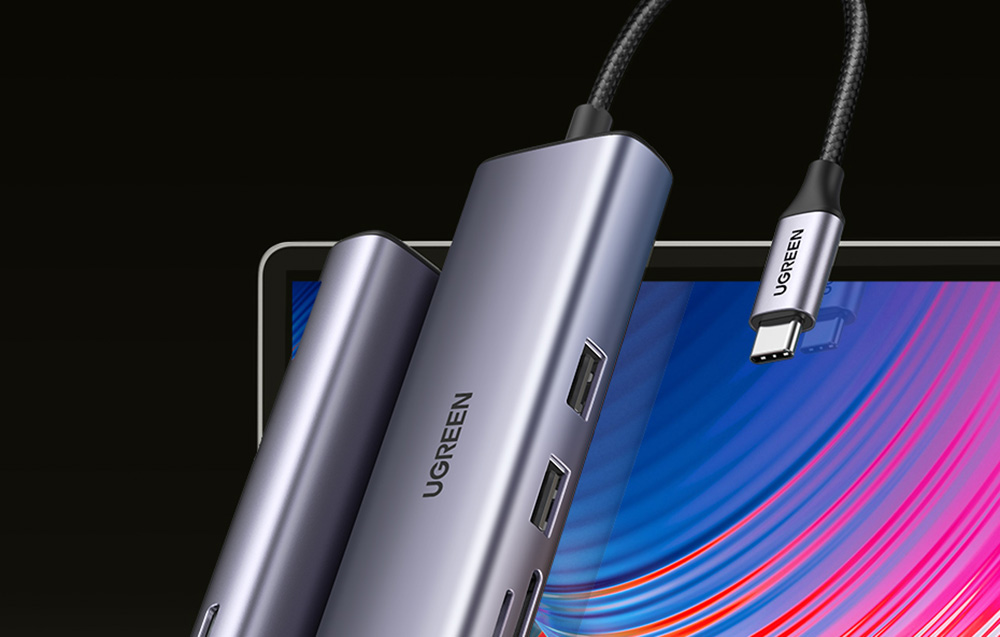 High picture quality
Transform your room into a movie theater. The UGREEN Hub is equipped with an HDMI port that allows you to display your image on a larger screen. It offers stunning 4K30Hz quality at resolutions as high as 3840 x 2160. You and your loved ones will be amazed by the richness of details. You can seamlessly connect your laptop to the TV, for example, and have a nice time with your family watching your favorite movies.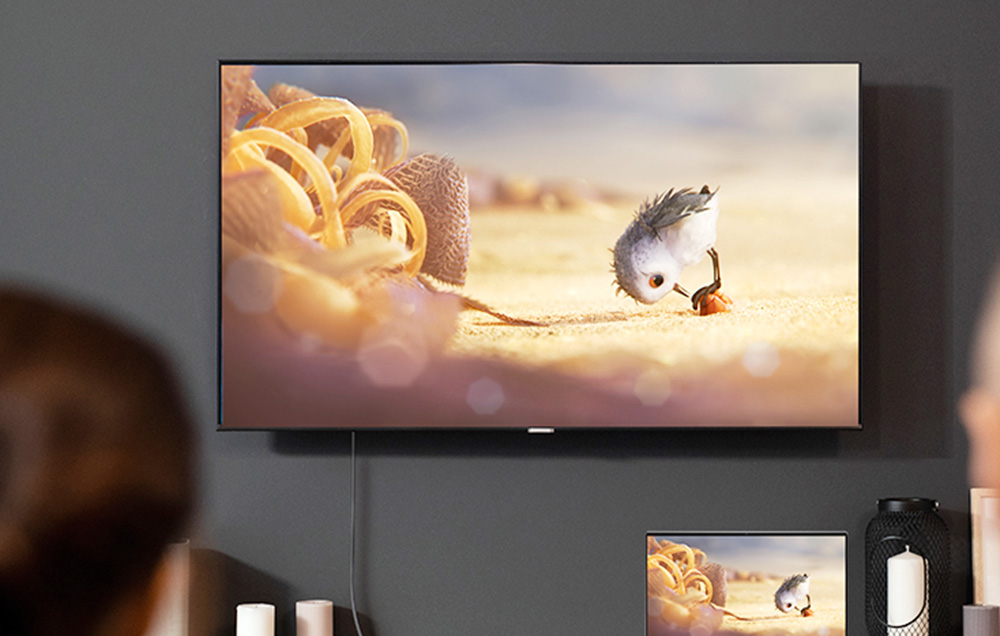 Many possibilities
Hub UGREEN will be perfect for a variety of applications. In addition to entertainment at home, it will be useful at work and university. With its help you can connect your laptop to the projector and professionally present your presentation. What's more, with 2 USB 3.0 interfaces, you can easily connect the devices you need to your laptop, such as a USB drive, mouse, keyboard, hard drive, camera or printer.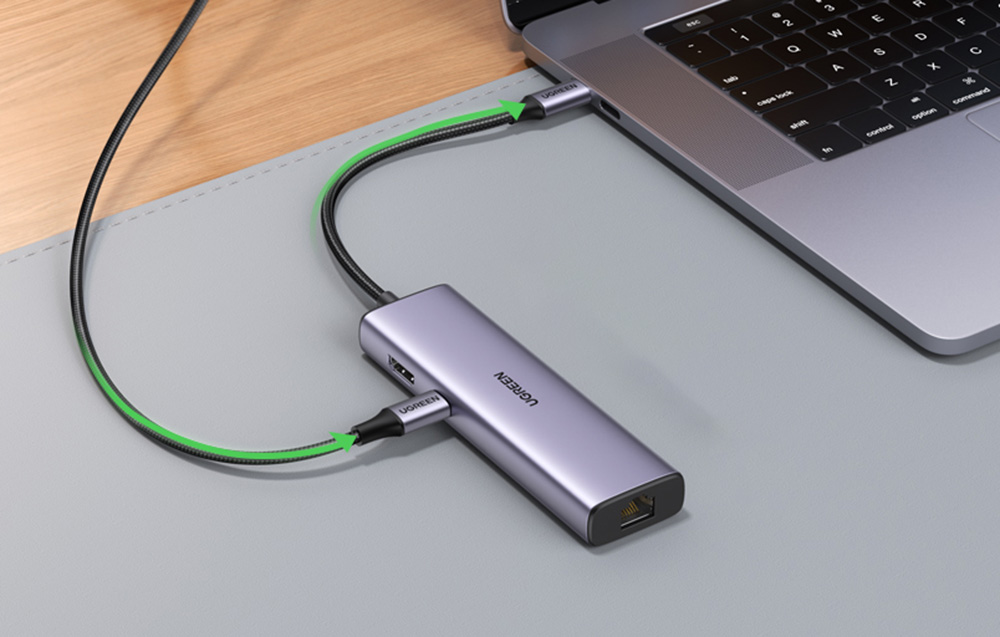 Instant data transfer
Experience how fast you can transfer files. Two USB 3.0 ports enable data transfer speeds of up to 5 Gbps. In just a few seconds you'll be transferring photos, videos, documents or other files to their destination. What's more, the hub is equipped with slots for SD and TF cards. It also allows simultaneous reading and writing of data at speeds of up to 104 MB/s.
Fast charging of your devices
Tired of waiting for your devices to be charged and ready for use? The UGREEN Hub will solve your problem. The device allows fast charging of PDs with up to 100 watts of power. This means that 1.5 hours of charging is enough to completely renew the battery of your MacBook Pro or MacBook Air.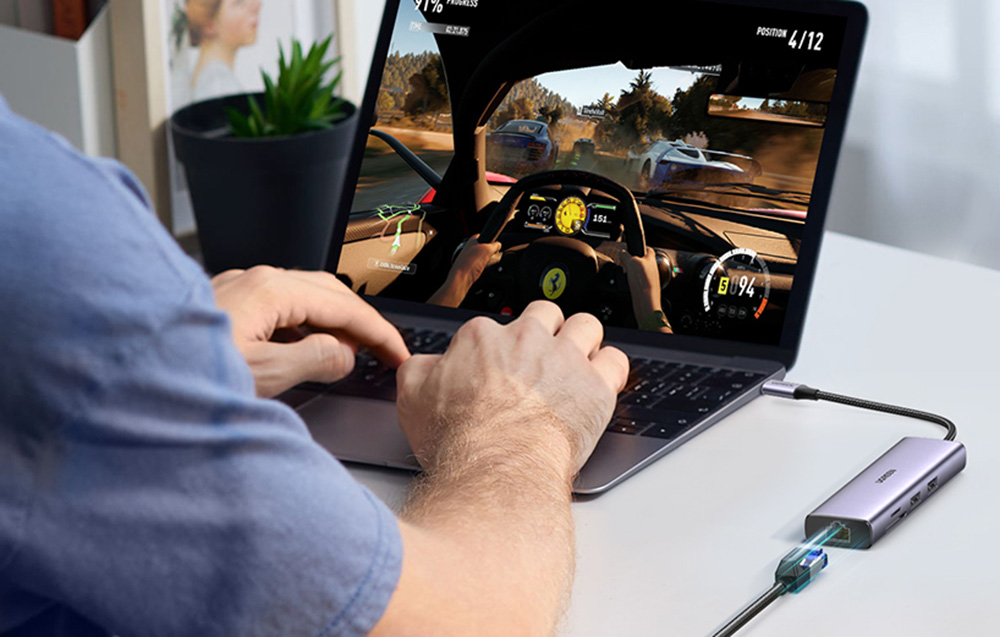 Compatible with your hardware
You don't have to worry about compatibility issues. The UGREEN Hub works with most popular devices. It supports Mac OS, iOS, Windows, Android and Linux (to use the Ethernet port with Windows 7 / XP version, a driver is required).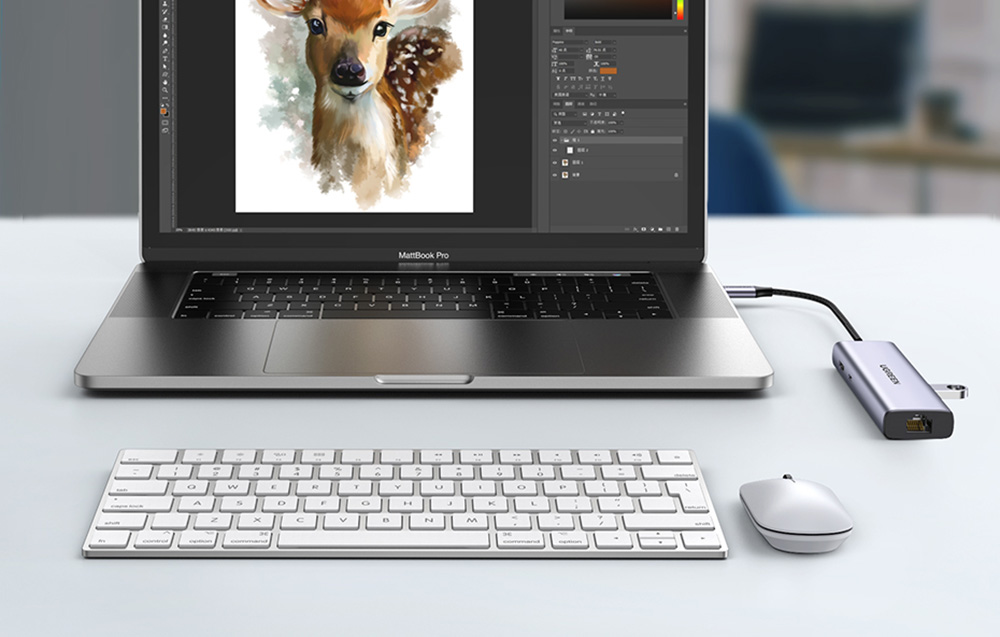 Additional facilities
Does your smartphone or tablet support OTG? If so, you'll be happy to know that the UGREEN adapter also supports this feature. You can comfortably watch videos from your phone or tablet on the big screen. The possibilities don't end - and that's still not all! Thanks to the RJ45 port, you will say goodbye to interference for good and enjoy a stable connection with speeds reaching up to 1000 Mbps.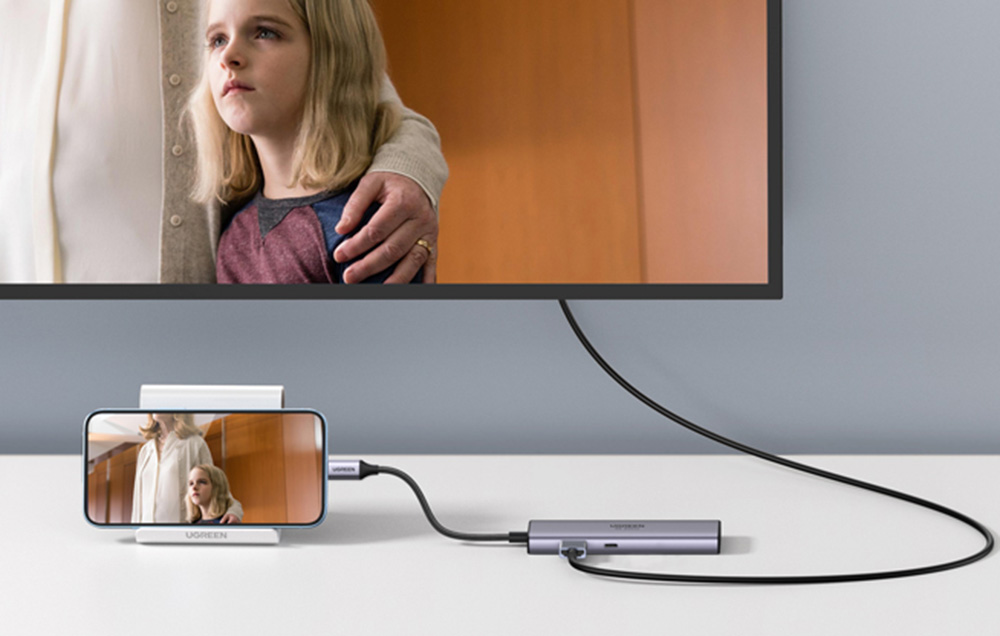 Manufacturer
UGREEN
Model
CM512
Color
Gray
Output ports
SD / TF: 104 MB/s
USB-C: 100 W (max.)
RJ45: 1000 Mbps (max)
HDMI: 4K30Hz
USB 3.0: 5 Gbps
Operating systems
Mac OS, iOS, Windows, Android, Linux
Other
OTG function support